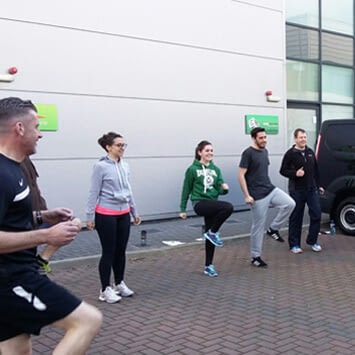 In Esmark Finch, we know how important it is to keep employees happy and healthy, and that staff activities, days out and so on are a great way to create a positive and fun company culture.
For 5 weeks, the staff at Esmark Finch has been taking part in a staff wellbeing programme coached by Ronan Mee from RM Fitness. Every Wednesday, from 5.30 to 7.30 (pm! We're brave but not crazy…), we've learnt all about nutrition, hormones and how to stay active at the office. And we've worked out pretty hard.
Here's how it went.
Session 1: 4th May
Everyone's put on their tracksuit which means one thing: this is on!!! At the beginning of the session, Ronan takes everyone's weight and other fitness measurements, then teaches us how to calculate our BMI and how many calories we should be consuming. We also learn how to read labels and look for the bad stuff in various popular foods (a few shockers there!). The atmosphere is relaxed and everyone's having a laugh (we've hidden all the chocolate bars and sweets lying around the office before Ronan arrived…).
The second half of the session is where things get real. Never mind the cold, we head outside and get tested on our running skills and agility. Our finance director Rolando shows us how it's done on the Multi Stage Fitness Test, and our IT intern Jose nails the agility test. At 7.30 we're all exhausted…and happy.
Session 2: 11th May
The session starts with a food prep challenge. Using the fresh & healthy ingredients that Ronan brought, we team up by pairs to prepare a healthy, balanced and well presented lunch in a minimum amount of time. The winners are Mary and Colin. We've made a real mess… but we all have a healthy lunch ready for the next day!
The second part of the session is super physical and intense. 100 squats, pushups, situps, and a very fierce plank contest, which was won by Raquel! In one word: sore!
Session 3: 18th May
Stretching, foam rollers, trigger balls… probably our favourite session!
Session 4: 25th May
Pilates time! As we literally bend over backwards, Ronan gives us some tips on how to stay active during the work day.

Session 5: 15th June
We can't believe this is the last session already… and what a session! That ladder exercise guaranteed a sore next day: 100 squats, 90secs plank, 80 mountain climbers, 70 side steps, 60 jump jacks, 50 lunges , 40 bridges, 30 pushups, 20 burpees  and 10 lengths running. We feel AMAZING.
We want to thank Ronan from RM Fitness who has been a wonderful trainer, and we highly recommend him!