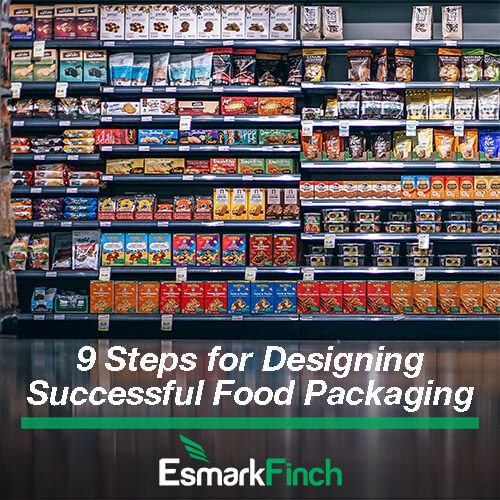 When it comes to purchasing behaviour, packaging is just as important as the product itself. Packaging is the first point of contact between the consumer and your product in store, so it's worth putting some time & effort into the design.
However, creating and designing packaging for your food product can be a challenging process, especially if you are running a small company with little experience in the matter. At Esmark Finch, we want to help so that's why we've put together this step-by-step guide to help you understand the process of designing your packaging.
1. Select materials and type of packaging
There are many materials and types of packaging you can use; you are spoiled for choice. You will need to decide early in the process if you are going to use a box, tray and sleeve, tub, jar, pouch and so on, and how it is going to be sealed. The primary function of packaging is to protect your product, so some factors to take into consideration are the nature of your product, its shape, size, weight, how it will be stored and of course your budget.
Bare in mind when making your decision that there is an increasing demand on food packaging to be sustainable, carton packaging is the most eco-friendly solution, you can learn more about that here.
Skelligs Chocolate has decided to go with creative carton board packaging design.
2. Get familiar with industry regulations
Not complying with packaging regulations can have serious consequences, such as product recall. So researching what regulations apply in your country of operation is absolutely crucial.
In Ireland, European regulations are applied and they are governed by the Food Safety Authority of Ireland (FSAI).
Here are some key rules to follow:
Food companies are obliged by law to provide information to the consumer such as ingredients, use by or best before date and net quantity
A nutrition declaration has become mandatory
Pay particular attention to allergen information, which must be displayed in a very specific way.
All mandatory information should have a minimum font size of 1.2mm (measuring the height of lower case characters). For smaller packaging where the area of the largest surface is less than 80cm2, the minimum font size is 0.9mm.
3. Gather all necessary information
When possible, it is best not to enter the creative phase of your packaging design before you have all the necessary information ready. Not having this information can result in a costly design bill as you make lots of changes.  Prepare ingredients list, nutritional information, barcodes etc so they don't get in the way of creativity later on! This will save you a lot of time and money. If you are using a design studio, you will need to provide your company logo and possibly brand guidelines.
There is one last step before you get started on the creative aspect of your design: look at what your competition is doing.
4. Research your competition
Another function of product packaging is to differentiate your product. Chances are, your product is going to sit on a shelf right next to your competitors', so the last thing you want is for your packaging to look similar to theirs. Research your competitors' packaging online, or even better, in store.
5. Work on your overall design concept
At last, it's time to get creative!
In order for your packaging to be successful, you need to consider the following:
Brand identity: What does your brand stand for? does it have a distinctive personality? What image it it trying to convey?
Positioning: Packaging is often an accurate indicator of a product's price and quality. Where is your product located on the product positioning map?
Consumer persona: Who is your target customer? How can you use design to make a connection?
6. Pick the main design elements

For Happy Pears new range they maintained the bright colours and distinctive text associated with the brand, reflecting their fun healthy brand. 
Colours:
According to a study by the University of Delaware, packaging colours account for nearly 85% of the reason why someone purchases a product  (Entrepreneur.com).
Here is a great article on how to choose your packaging colour:
Branding For Your Audience – Choosing a Color, by PackagingOfTheWorld.com
Fonts:
The most important thing here is to get the right balance between legibility and visual appeal. This post by 99Designs does a great job explaining how to choose the right font for your design:
How to make the right font selection for your design, by 99Designs
Images:
There is some debate around the use of food photography on packaging. On one hand, the consumer may be disappointed when the product doesn't look as good as on the packaging. On the other hand, a picture of what is inside the packaging can increase consumer confidence. If do do decide to use photography, get the pictures taken by professional food photographers for the best possible result. But the trend today is toward more simple graphics and the use of vector illustrations.
7. Add extra value
Many food companies now include serving suggestions or even recipes on their product packaging. This gives the consumer an extra incentive to purchase. This is especially true if your product is not a common, widely used one. Consumers might not know what to use it in!
Happy Pear added value to heir packaging by transforming the inside into a image for children to colour in.
8. Get digital
If you have a presence online, make sure to refer to it on your packaging. Display website links and social media icons to attract the consumer to your online channels.
9. Proof the final artwork
Check each design element against your brand guidelines and proofread all copy VERY carefully. Pay particular attention to regulations! Print the artwork for proofreading, you will be more likely to spot mistakes, including typos, on a hard copy. We can't stress how important this stage is enough, it can be incredibly frustrating to go through all that hard work and have a mistake on your final product, get other people to look it over too before signing off.
Our packaging experts and graphic designers can assist you throughout the whole process, from initial consultation to packaging design all the way through to finished packaging production. We've had years of experience and have helped many start-up food companies through the process.