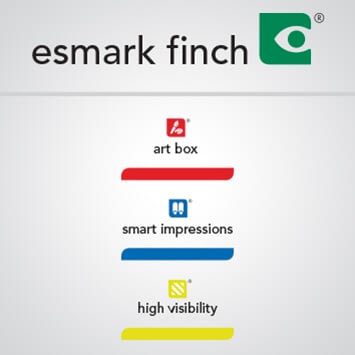 Our objective is to be best in class in everything we do. With this in mind, Esmark Finch has fine-tuned its brand to be a strong and recognizable corporate identity – one which reflects its growing presence as a leading, multi-faceted service provider.
Esmark Finch is an innovative organisation providing creative & graphic design, print & packaging, vehicle graphics & conversions combined with a comprehensive list of online services through our unique software platform ODS.
Our capabilities enable us to bring innovative ideas, products and services to our clients making it easy for our customers to do business with us. Also, as an ISO 9001 and PS 9000 accredited company, independent auditors ensure that all our systems and procedures allow for the constant delivery of the highest industry standards.
A good Design is innovative and can make a real connection. We aim to make your branding and your identity work for you with Creative Concepts and Designs that will make a connection with your customers.
Our services include:
Artwork preparation
Template Creation and Management
Brand Identity Design & Consultation
Packaging Design
Illustration
Epublications, & editable PDFs
Our approach enables us to provide total commitment to understanding our customers' businesses and the communication challenges that they face.
Print
Esmark Finch has the experience to offer the most cost effective solutions for even the most problematic and challenging project.
Our services include:
Digital Print
Low and High Volume Packaging
Lithographic Print
Point of Sale Materials
Large Format Printing
Procurement, Warehousing, and Inventory Management
Packaging
From initial design to creating the finished product, Esmark Finch through its ability to design and produce Digital Packaging On Demand, allows companies to economically launch new products for low-run-volume printing, and also improving visibility on the shelves.
High Visibility @ Esmark Finch – our vehicle graphics and conversions specialists.
Vehicle graphics – the team focus on emergency vehicles and offer the complete service, design, supply and fit.  Using only premium products like 3M Diamond Grade and Engineering Grade materials and combining this with our in-house ultrasonic edge sealing machinery they can ensure a world class stunning result.
Vehicle conversions – again, focused mainly on emergency services, the team have taken standard cars, vans and trucks and turned them into specialist vehicles, Garda Vehicles, Prison Vans, Mobile Workshops and even a truck used by the Garda Sub Aqua Unit. High Visibility provide all the services in house ensuring a quality job with an ontime delivery.
Our Services include:
Emergency vehicle conspicuity markings
Chevron kits
Emergency lighting (lightbars, beacons, flush mounted fittings)
Emergency sirens, vehicle public address amplifiers
Radio rebroadcast units
Emergency vehicle electrical repairs