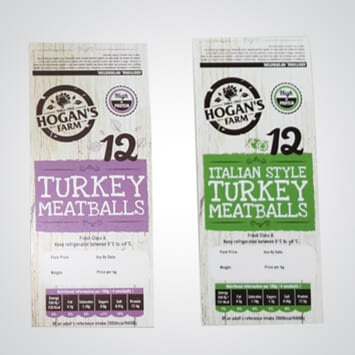 How we helped our packaging customer Hogan's Farm with their complete rebrand
Hogan's Farm is an award-winning family owned turkey farm operating since 1962. In addition to rearing and producing fresh turkey, Hogan's expanded their operation into production of cooked meats for the retail market. Recently they also opened a family run farm shop located on their Farm in Kells, Co. Meath with local produce consisting of a range of Fresh, Frozen and Ambient goods.
Hogan's identified changes in the marketplace and decided to adapt their branding and product range to embrace current trends. Hogan's wanted the new brand identity to emphasize the hand-crafted nature of the products and Hogan's Farm's position as no.1 fresh turkey products brand. It had to communicate their core values: quality, expertise, service and craft. It would also need to maintain the heritage quality of the brand while adding an element of fun.
A strong advocator of the nutritional benefits of fresh turkey products, Hogan's Farm also wanted their range of products to give their customers some meal inspirations, with recipe suggestions on all packs and the launch of a new website www.hogansfarm.ie .
The rebrand extended across their existing range – Turkey Breast stir fry, Mince and Steaks – but also on their new "Inspirations" Product range of lightly seasoned Low Fat High Protein Turkey Burgers and Spicy Habenero Chilli Burgers for the brave! Along with a delicious selection of Turkey Meatballs, Sausages & Rashers. You will find Hogan's new range of products in all Dunnes Stores shops nationwide!
What the customer is saying
"We have worked with Esmark Finch for years on all our printing needs and more recently on design projects.
As a producer, we feel it is important to work with our suppliers and build lasting relationships, as it delivers the best results for the overall quality of our products – in this case how they are presented to our customer. Having built a close relationship over the years with John and the team we felt confident that we could go to them and get some ideas for the rebrand that was long overdue. I sat down with the team, went through what we wanted from the rebrand and were thrilled with the results.
It was exactly what we wanted and because they can offer the full service from design to print we could get it quickly turned around in a short timeframe for our product launch."
Niamh Craughan.
Marketing Manager at Hogan's Farm