Esmark Finch attended the annual Chief Fire Officer Conference
hosted this year by Monaghan County Council. This was a fantastic
event to showcase our work on specialist vehicle conversions at the
trade exhibit.
We brought with us the Hyundai Tucson we recently completed vehicle conversion for Dublin Fire Brigade which got a great reaction from attendees of the event.
We discussed the work we carried out on the Dublin Fire Brigade Tucson, including the fitting of reflective livery to achieve maximum visibility we also explained the lighting applied such as, alternating slim line white LEDS fitted adjacent to the headlights, grille blue lights, flush fitted front & rear fend-off bumper LEDs.
Also fitted were rear windscreen blue lights, alternating rear fog lights, flush fitted rear guard lighting to the tailgate (Red & Blue), forward facing internal blue light - front windscreen, LED lighting strip at the tailgate.
We also fitted a full width LED Light Bar with associated attachments, with facility for non-flashing low power blue illumination of the whole bar. A multi-function control unit with siren and amplifier was also fitted as well as a Tetra Radio.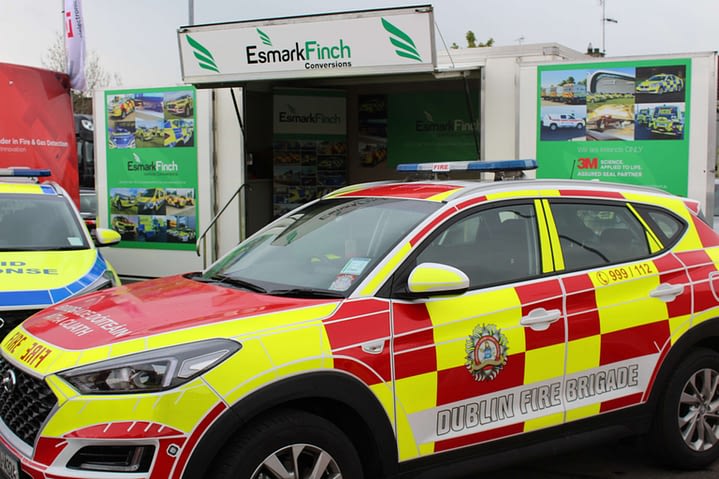 The trade show had some great demonstrations this year including a live presentation on how to safely cut injured persons from crashed vehicles using specialised machinery and the event also had very interesting speakers such as Ms Dany Cotton, the commissioner of London Fire Brigade, one of the highest ranking women firefighters in Europe.
We converted a kids 12V Ride-On-Car into a Junior Fire Chief car specially for the event to have one lucky person win on the final day of the event. The little car was fitted with emergency lights and sirens and received fantastic attention on our stand.
To learn more about our work on specialist vehicle conversions for emergency vehicles contact us today.