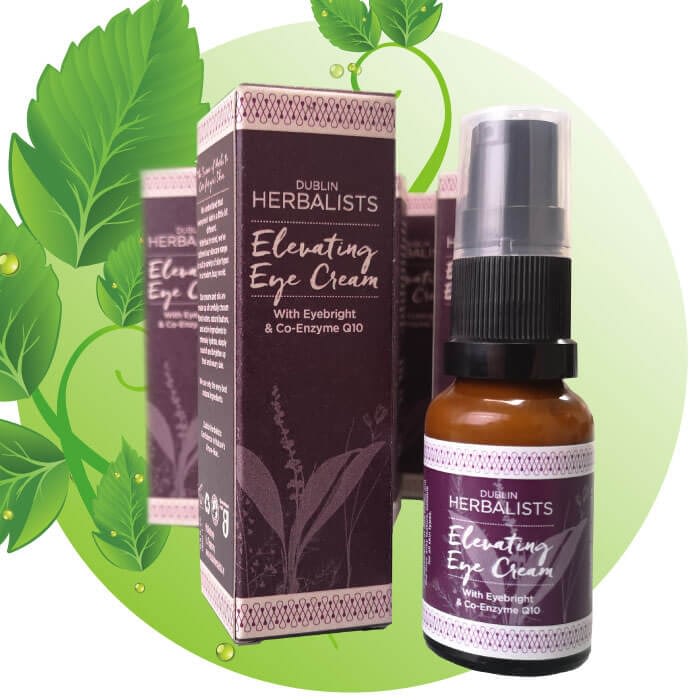 Congratulations to Dublin Herbalists, who are our first clients to embrace and use our new sustainable material offering, Earth Pact Natural, in the launch of their new product Elevating Eye Cream. 
Dublin Herbalists provide natural, organic skincare with a range of over twenty products using only sustainable ingredients that are kind to plants and animals, so when we told them about our new sustainable packaging material Earth Pact Natural they were very eager to try it out as their brand is passionate about being kind to the environment.
Dublin Herbalists packaging is already eco-friendly and recyclable, they use carton board packaging which is considered the most sustainable form of packaging. The board we use has been manufactured from sustainable stocks and is FSC certified.
Esmark Finch are passionate about finding further sustainable solutions for our clients packaging and we have recently invested in the new material Earth Pact Natural and Dublin Herbalists has been quick to take those further steps in sustainability.
What is Earth Pact Natural Material?
Earth Pact Natural material is environmentally friendly paper made from agricultural waste.
In order to feed 7 billion people worldwide, agricultural crops such as rice, grain, corn, sugar cane, etc. are grown. On average, only 20% of the plant is used for food and 80% are stems and leaves, considered agricultural waste.Worldwide, the majority of this agricultural waste is burned, which is a shame in a time where raw materials and the environment are becoming increasingly important.Using this high quality material gives a second life to agricultural waste. In doing so, they lower their ecological footprint, add value to waste, and prevent wastage.
Don't Waste, Transform!