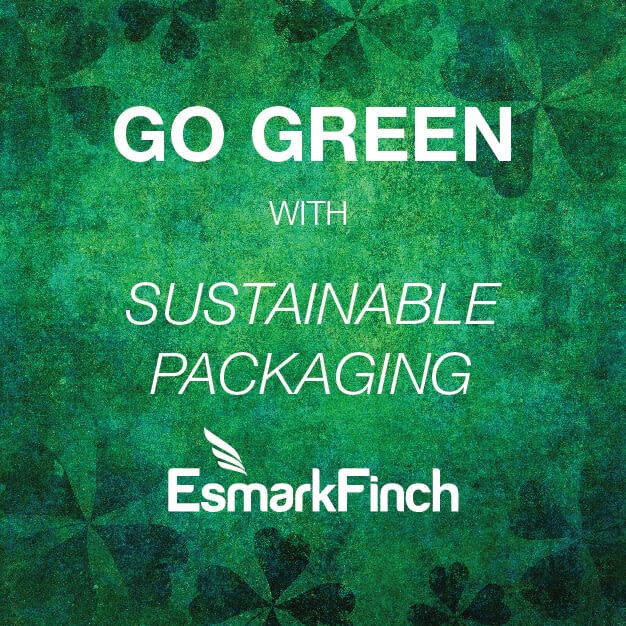 It's almost St Patrick's Day and the whole world is going green.
As a proud Irish company, Esmark Finch always wear green with pride even going as far as ensuring green is a key part of our logo. But did you know that we produce carton board packaging which is considered the GREENEST, most sustainable form of packaging?
Plastic is enemy Number 1 and brands are looking for alternative packaging solutions. Esmark Finch has specialised in digitally printing on paper board for years and we have always maintained it is the ideal packaging solution.
Here are just a few reasons why:
Paper-based packaging protects goods, reduces waste and is recyclable.
In the EU, more paper-based packaging is recycled than any other packaging material combined.
In the UK and Europe, the collection of paper packaging is hugely successful with over 80% collected for recycling.
Consumers prefer paperboard packaging. According to a recent survey, 57% of consumers prefer paper-based packaging.
(Eurostat, 2015)
A key attribute of carton board is the ability to form it into many shapes through the cut/crease and gluing processes. Esmark Finch have years of experience, perfecting our skills and perfecting our techniques while ensuring a quick turnaround.
The board we use for our printing has always been manufactured from sustainable stocks and is FSC certified.
Recently we have invested in a recycled material 'Earth Pact Natural'. We've been raving about this material for the last few months because it goes even further for sustainable packaging.
On average, only 20% of the plant is used for food and 80% are stems and leaves and considered agricultural waste. Earth Pact Natural gives a second life to this agricultural waste, meaning no trees needed to be cut down for this material. We are in love with the story of this board and it's high quality, organic texture.
In the 2018 Irish Print Awards, Esmark Finch won Innovative Print Business Award for our work with Earth Pact Material.
Esmark Finch aim to provide our customers with premium packaging, a trusted service whilst still maintaining strong environment practices. Sustainable packaging can be the only way forward in the industry and we plan to support our clients as they look for sustainable solutions through carton board packaging.
Consumers are demanding for brands to 'Go Green Or Go Home' and Esmark Finch are here with the answers.

Happy St Patricks Day! We hope you have a wonderful long weekend. Don't forget to GO GREEN or GO HOME.
Interested in carton board packaging? Read more carton board facts here:
https://www.twosides.info/wp-content/uploads/2018/02/Two_Sides_Myths_and_Fact_V9.1-web.pdf