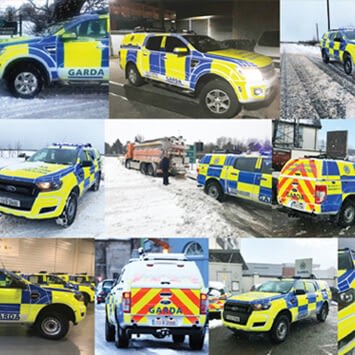 When Storm Emma hit Ireland last week the country shut down, businesses were urged to close and people were told to stay inside as we quickly learned never to take bread for granted again.
However, the brave men and women from the Emergency Services had to work even harder in this severe weather.
Esmark Finch have worked closely with different arms of the emergency services, customising and converting a vast array of vehicles to ensure they are fully equipped to face any emergency. Last week those vehicles were put to the test in the whiteout conditions of Storm Emma.
With extreme conditions, vehicles that stand out are vital. Esmark Finch use world renowned 3M Diamond Grade materials and strive to cover as much of the vehicle as possible to add safety and impact.  By using the highest quality LED's, Light bars and sirens ensures that the vehicles stand out in extreme conditions.
The High Visibility team completed a fleet of 10 Ford Ranger Utility 4×4 vehicles and these were in force during storm Emma. For snow and ice conditions 4×4 vehicles with a high ground clearance are vital.  The distinctive Roads Policing markings made sure that they could be seen and clearly identified during hazardous conditions.
Dublin Airport had a serious job on hand trying to keep snow and ice from accumulating on the runways and taxiways. With over 740 aircraft movements per day flying to 42 countries world wide the DAA expect the airfield to function 364 days per year (closed Christmas day). So, the High Visibility converted fleet of Mitsubishi L200's and Outlanders were out in force.  The winter operations teams moved into a high gear to help minimise the impact on flights. The vehicles are all equipped with state of the art communications equipment, transponders (to allow air traffic control "see" them on radar) as well as more conventional high quality light bars, spotlights and LEDs.  Of course, these all help but a generous covering of 3M Diamond Grade material in distinctive black and yellow battenburg patterns is the final safety net.
Our friends in Cork Airport struggled with Emma too and our 4-wheel drive Skoda Scout was a great addition to the fleet. With an elevation of 153 m (502 ft) above sea level, Cork Airport is sometimes prone to fog  – add the strong winds and snow from Emma creating an interesting weather cocktail.
Human nature makes us curious – and sometimes that leads to decisions that potentially could have serious outcomes. When vehicles or even walkers venture to high ground during extreme weather conditions things can turn nasty very quickly indeed.
Dublin and Wicklow Mountain Rescue are normally the point of first response when things go wrong in high ground near the capital city. In the High Visibility workshop their new command and control vehicle is close to completion.  Once complete this vehicle will offer a safe and secure environment for the teams to coordinate complex searches and recoveries. Even though their new vehicle wasn't completed in time for Emma, it certainly shows it will be needed.
The vehicles we worked hard on to ensure they met the highest standards were certainly challenged as they took on the beast from the east and we are thrilled with the feedback from the emergency services about their performance.