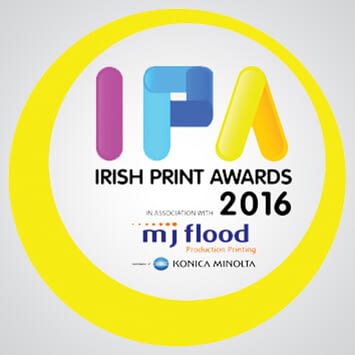 We are delighted to announce that we have been shortlisted for the Irish Print Awards 2016 in 3 categories.
Berry Be Beauty Packaging
Categories: Digital Printer of the Year & Luxury Packaging
About the job:
Lorna of Berry Be Beauty, contacted us here in Esmark Finch in the hope we could help her rebrand and relaunch her existing products in all new packaging. All in all, Lorna had a requirement for 10 different boxes across 3 different keylines for her hand cream, body butter, body polish and candle fragrance ranges. We needed to keep consistency of her brand and new colour scheme across all packaging variations.
We created numerous CAD samples for testing the size and weight of the various products in glass jars within the boxes. This enabled us to ensure the boxes were fit for purpose and could hold the product securely when being transported to stockists and customers. We decided on a crash lock base for all boxes and an insert for the candle box for added security.
We printed flat sheet samples of all artwork types for colour approval prior to the full print run. This was a huge plus for Lorna as up to then, she was viewing her packaging on her computer screen and phone which were showing colour inconsistencies.
All of the beauty products are handmade in Ireland, using only the finest natural raw ingredients and high quality fragrance oils. With this in mind, Lorna opted for a rustic, natural effect within her artwork so we teamed this with a rough matt varnish finish to complete the look.
Since the rebrand in her packaging, Lorna has seen a huge lift in sales and also added many more stockists throughout Ireland to her growing list.
Duffy & Scott Christmas Packaging
Category: Luxury Packaging
About the job:
Our client Duffy and Scott, an Irish based candle maker, were looking for support in launching some luxury candles into the Christmas Retail Market.
They required some support from Esmark Finch with some packaging to be designed to suit their candle product, and produced to match the candle product labelling within.
Working closely with the Duffy and Scott designers, Esmark Finch were able to ensure that the correct packaging design was created and fit for purpose.
We then ran some sample flat sheets of the various artwork designs, and agreed colour standards of the artwork families across the brands.
On product and design and color approval, we then processed an initial run of 100 of each the orders in a quick lead time of 3 days to ensure that product would be ready for the customers trade show.
We then finalised the full order run in time for the Ploughing Championships to ensure that the client could maximise their orders with consumers at the clients exhibition stand.
The advantages that Duffy and Scott benefitted from the Esmark Finch Digital Workflow production supply for their packaging were as follows:
– Packaging Design Consultation
– Colour matching on press, and synching with printed labels on candles
– No minimum order quantity, running 100 cartons across various artworks initially
– Quality and consistency of printed package
– Fast turnaround Retail orders to meet Exhibition and Trade Show deadline
– Consolidated order pricing (10,000 quantity made up of multiple artworks)
– On demand packaging, with no stock warehousing required
Once Upon a Dinner Packaging
Category: Print Business Innovation
About the job:
Our client 'Once Upon a Dinner', are a long established supplier of meals to the Irish Montessori market, wanted to expand their product into the Retail market, and were looking for support on their new packaging with this new venture. Their intention was to launch their ever popular 100% Irish, salt and sugar free, healthy children's dinners into general retail.
They choose to work with Esmark Finch on recommendation, due to the flexibility of digitally workflow produced packaging, and the support services that we can give to clients looking to launch new product packaging. Without the restrictions of minimum order volumes, multiple plates origination, and long lead times that hamper  new clients starting into retail packaging in standard litho production, we worked closely with the client to design the packaging style and ensure their tight deadlines could be met.
Our designers came up with a package design that suited the clients aesthetic requirement, and was also suitable for digital production. This meant that the 'Bookflap' style sleeve, was ideal to mimic the 'Children's storybook' style requested by the client. They loved the design of the package tailored to suit their product.
As new customers in the Retail Food Industry, they had to pitch their idea to the Retail Multiples for acceptance, and Esmark Finch were able to support them with this by running 5 fully finished printed prototypes of 3 different meal artworks, against very tight deadlines of less than 48 hours from artwork release to finished product.
The clients presentation was successful, and this subsequently led to the initial order for retail of 5000 units of the three different meal flavours, and they are now looking to expand into more flavours as the retail project expands.
The reason Once Upon a Dinner chose to use to use Esmark Finch and our Digitial Workflow production supply for their packaging were as follows:
– Packaging Design Consultation
– No minimum order quantity
– Quality and consistency of printed package
– Fast Turn Around of Prototypes and Retail orders
– Consolidated order pricing ( 5000 price made up of multiple artworks )
– On demand packaging, with no stock warehousing required
– Supportive of new entrants into Retail Food Packaging Markets
esmark finch are looking forward to supporting growing the business for Once Upon a Dinner in the Food Retail Market as they launch more flavours and products successfully.