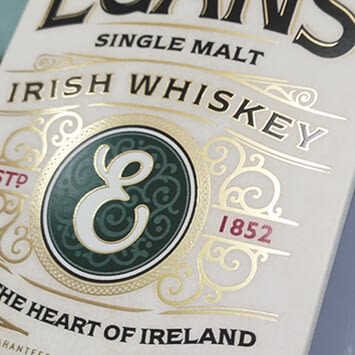 There are a wide variety of specialty printing techniques available for consumers who are interested in setting their printed products apart from the ordinary masses.
If you want to ensure that your product will have thjat premium look and feel, you should considering utilizing these techniques.
Many brands have already used Gold Foil Stamping or UV Varnish to ensure individual Impact in the consumer market. An example could be Egan's Whiskey, who were looking for a solution for a short run of 2000 Premium Gift Set cartons to accommodate a special 10yr old Egan's Whiskey Bottle for retail in the International market at Christmas time. 
With a terrific Premium Finish that garnered favourable attention across the board, we could say that the investment was worth it.
Let's have a look at some of this Premium Techniques, analysing pros and cons in each case.
Foil Stamping
Foil stamping is a specialty printing process that uses heat, pressure, metal dies and foil film. The foil comes in rolls in a wide assortment of colors, finishes, and optical effects. Metallic foil is most commonly seen today – particularly gold foil, silver foil, copper foil, and holographic metallic foils – but foil rolls are also available in solid colors in both glossy and matte finishes.
Foil blocking is applied post print. It is used to give a highly decorative finish, and then get premium aesthetic results.
Foil's can be utilized across a wide range of printing jobs, from stationery through promotional work and beyond. It can also be used as a security device on tickets, cheques etc. This printing process is very popular with greeting card publishers.
Pros
Foil is an opaque medium. Unlike thermography, lithography and letterpress, foil stamping does not use any ink. As a result, the foil color does not change based on the color of paper on which you are printing.  This makes metallic or lighter color foil great for darker or colored papers.
Foil can be used for a variety of finishes, including metallic, matte, glossy, pearlescent, holographic, and patterns such as marbling. There are also semi-transparent tint foils, if you do want to allow the paper color to show through.
Metallic foils have a shiny, lustrous finish with a big visual impact. With thermography, lithography, and letterpress, metallics can fall flat and aren't very shiny.
Cons
Like letterpress, foil stamping is a labor-intensive printing method that requires multiple runs through the press to achieve multi-color designs. As a result, foil stamping can be expensive.
Because foil is applied by heat, it should not be applied near text or designs already applied by thermography. The heat will melt the thermographic resins.
Spot UV Printing
One of the most popular printing techniques based on its high impact, affordability, and versatility is spot UV printing. Although, technically, it's not a "printing" technique but a coating technique for printed materials.
Spot UV printing utilizes UV light to "cure" a varnish that is applied to paper or cardstock. This varnish can be applied to plain white cardstock, but is often applied to coat color-printed paper products, sealing in their color, adding shine, and protecting the printed surface underneath from moisture and other types of damage.
UV coating can be applied to achieve either a lightly glossy appearance, or a high-gloss shine, depending on the application technique. Business cards, flyers, and other heavier weight papers or cardstocks are best combined with UV coating.
UV coating can be applied to the whole page, or just to certain areas – a process commonly referred to as "spot" UV coating. In either process, the UV coating has the potential to deepen the color of the print, so when you use it in print projects, it's a good idea to take this into consideration.
Print coatings are used on printed products primarily for protection or to achieve certain visual effects. Coatings can provide protection from moisture, scuffing, scratching and finger prints. They can also be applied to one or both sides of a printed piece to create a glossy or dull finish or can be applied selectively to highlight a certain visual element.
Pros:
can be used to enhance specific areas such as text, logos or images rather than cover a whole page
additional substances can be added to varnish to increases its versatility such as glitter
can be used in conjunction with a laminate and printed over the top to create a more creative and diverse result
Cons:
if printed over a crease in a document it will crack in the same way ink does
if printed over text or images will be subject to 'make ready' die charges which increases its cost
due to additional set up required uv varnishing is a longer process than lamination
Embossing / Debossing

Embossing and debossing are similar processes that create a different result. Both processes involve making a metal plate and a counter. The plate is mounted on a press and the paper is stamped between the plate and counter. This force of pressure pushes the stock into the plate, creating the impression.
Embossing produces a raised impression on your paper stock:
… while debossing creates a depressed impression.
When designing, you should be aware that embossing is a mechanical process that manipulates the paper stock, so by default, it will also manipulate your design.
You also have to set your type with more space between letters than usual. If you put them too close to one another, they can merge and become one element once the embossing has been done. Embossing makes design elements look smaller and reduces the sharpness of smaller items.
There are two ways you can emboss your work at home: dry embossing and heat embossing. Dry embossing, also called relief embossing, is done by tracing a stencil with some paper over it with a special tool called a stylus to get the raised effect on it.
Heat embossing, also referred to as stamp and heat embossing, is done by stamping an image on a piece of paper, sprinkling powder over the stamped image, and then applying heat.
Pros:
Can give a 3D effect, dimensional depth and detail
Make a document look expensive
Cons:
Adds cost to printing job because it is an off-press process
Dies must be specially made
Time consuming
Thin serifs do not emboss well