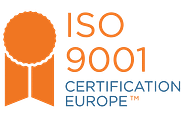 ISO 9001 is a recognised mark of quality. Our quality processes are audited against the ISO 9001 standards by an independent third party certification body.
Regular reviews keep quality at the forefront of our business with continuous improvement processes driving the way our business develops.
Internal processes are streamlined, improving efficiency, cost containment and savings, whilst improving accountability and traceability.
Staff motivation is improved through greater clarity and focus on business objectives – time and resources are spent on what really matters to the business.
A customer focus inevitably improves our customer service and referrals.
Better internal processes and customer services.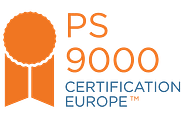 PS 9000 Certification
This certification focuses on the development and implementation of a quality management system designed to provide assurance of the quality of our products and to enhance customer satisfaction.
This standard enables us to ensure that the pharmaceutical packaging materials that are used are of appropriate quality. The standard is aligned to ISO 15378 (Primary packaging materials for medicinal products) and based on these principles as well as ISO 9001. Fully recognised and supported by the MHRA, it incorporates many quality management principles in line with GMP and regulatory requirements.
Ireland's ONLY 3M Assured Seal Partner
Esmark Finch were awarded a "Assured Seal" certification after completing a comprehensive training course with 3M.
Esmark Finch are proud to be currently the only company in the Republic of Ireland with this certification.
Maximum performance from a vehicle marking solution requires high reflectivity, permanent adhesion to the vehicle's body work and an edge sealed product to prevent the ingress of water and dirt. This means that the vehicle graphics will remain vibrant and firmly adhered to the vehicle – with the right care they should outlast the life of the vehicle.
That's what you get with the revolutionary 3M Diamond Grade DG3 Reflective Sheeting and when you use an assured seal partner.
Color Reproduction Certification and Color Management Program
Microsoft introduced their new CRCP ( Color Reproduction Certification and Color Management Program ) in 2018 to their Print Supply Chain to ensure that all their print partners could achieve and maintain brand and color consistency for Microsoft printed products.
This included having to fully pass test sheets supplied by Microsoft and measured by the Color Management Partners, Idealliance in the United States.
As a long standing print partner understanding the strict parameters required to support Microsoft Print and Packaging, Esmark Finch embraced the Certification Program, passed this testing process and were awarded Certification in early 2018, and are eligible to support Microsoft for both Digital and Litho Offset printed products.
Digital Printer Of The Year 2017
At the 2017 Irish Print Awards, Esmark Finch won the prestigious award of Digital Printer of the Year. The Irish Print Awards recognise the best of the country's print sector and regarded as the leading independent awards event for the Irish print industry. Winning this award is a testimony to the hard work from the whole team at Esmark Finch and our dedication and attention to detail we pride ourselves on in every job we complete. We were nominated in four categories and we won on the work we did for our long standing client Duffy and Scott Candle Makers, who asked us to support a major rebranding and launch of a new 'Seasonal' range suite of products, and create and supply packaging for three of their premium scented products.
We were honoured to have been awarded the title of Digital Printer of the Year and being recognised among our peers in the industry.
Print Business Innovation Award 2018
Esmark Finch were delighted to win an award for 'Print Business Innovation' in the 2018 Irish Print Awards for our work with Earth Pact Naturel material. Judges were asked to assess jobs that demonstrated high levels of innovation. This included the use of new technical developments within printing, or the use of a difficult substrate and were looking for entries that displayed a creative or innovative approach to a print job.
We are honoured to be recognised in this category for our work on sustainable packaging as we continue to strive to find sustainable solutions for our clients packaging needs. Winning the 'Print Innovation Award' is a testament to Esmark Finch culture of innovation, client centricity, and overall values.