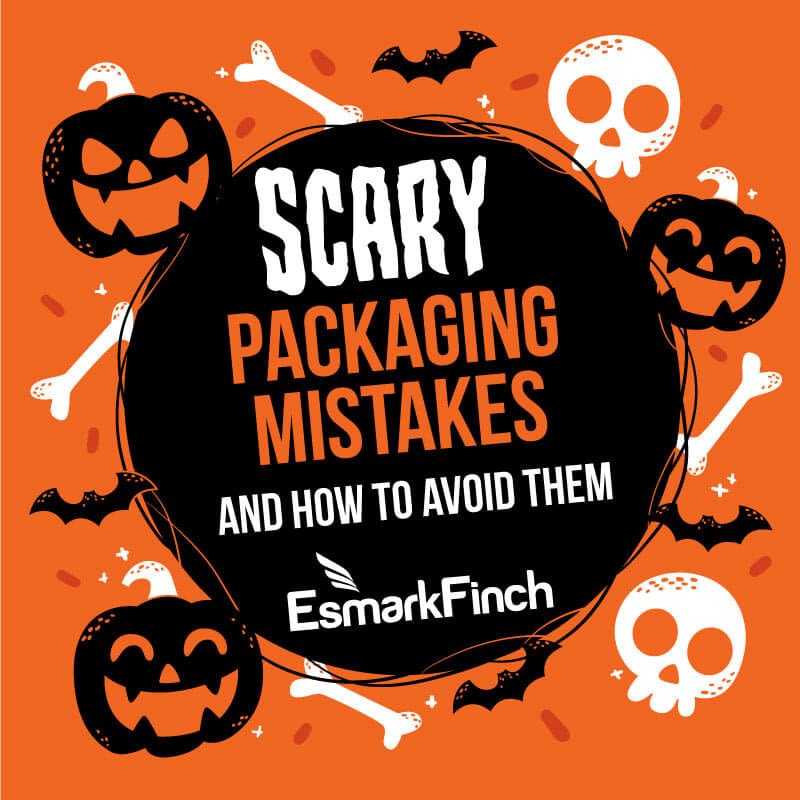 Everyone is at risk at making frightening packaging mistakes, even some of the largest brands in the world have made scary blunders. From design flaws to spellings mistakes, many of these mistakes are avoidable.
Packaging is the first impression your brand makes, and it is truly scary how many mistakes can be made, damaging brand perception and of course, sales (be afraid, be very afraid).
Packaging mistakes could jeopardise your product and often come from situations like lack of research, rushed jobs, not proofing correctly and not testing your packaging. As a packaging supplier we've seen our fair share of terrifying fails and guide our clients away from these common mistakes by taking the time to understand their needs.
Making their packaging a treat, not a trick.
Packaging Size
We've seen it firsthand. Brands spending a lot of money on packaging for their product only to find it's the wrong size and they need to go through the whole process again. This is why we make sure to do white engineering carton prototypes to ensure the packaging fit the client products effectively before going to print.
But this is not the only way brands can make packaging sizing mistakes.
Customers are becoming more environmentally aware, they have lower tolerance for brands that make their product packaging excessively large, especially when plastic is involved.
With public opinion shifting, it is becoming integral that brands ensure their product packaging looks professional while protecting the product without appearing wasteful.
Proper Proofing
Once you know what information goes on your packaging, you need to ensure that there are no errors or inaccuracies in the content. Not taking the time to ensure the information provided is accurate is not really a mistake, it's a sin.
Spelling mistakes look terrible and can be easily avoided. However, it is terrifying how often packaging can have spelling mistakes. So double, triple, quadruple check.
Also check that all the product information is accurate. This is especially important within the food industry and nutritional information. Make sure that you look into the ingredients and processing method to avoid falsely marketing a product with inaccurate information.
Errors in information on packaging can imply an incompetent brand, which can easily destroy any customer loyalty.
Packaging Style
Your packaging must make sense for the product and for the retail environment. Packaging that is too bulky, an irregular shape, or takes up too much shelf space is not going to impress any buyers.  Brands can make huge mistakes in choosing a material and style for packaging but find it simply doesn't function effectively for their product. To avoid this, ask yourself important questions like:
What material you want to use? Do you want sustainable packaging? Carton board, rigid, flexible, plastic? In the food industry, extending shelf life is a huge factor when choosing material.
What's your budget? The scope of your budget will determine the kind of materials you can use? For example, glass looks great but it's not cheap, either to manufacture or to ship.
How will your product be transported? Your packaging can have an amazing design but if it can't travel from your facility to the shelves without being damaged it's worthless.
Thinking about these questions as well as researching what is most likely to appeal to the desired customer are crucial to avoid costly mistakes.
Design Flaws
Some designs can not exactly go to plan. This can lead to embarrassing situations where shoppers see something inappropriate in the design that wasn't intended. A pattern, image or shape in design can be innocent and effective but put onto the packaging can be victim to unfortunate placing.
Not Testing
All the above mistakes are avoidable with testing, so we encourage our clients to test test test. There are loads of examples of packaging going wrong from labelling errors to major design flaws and these could have easily been avoided if the packaging had been properly tested. As mentioned previously, part of our process is to send prototypes to clients to ensure the sizing is correct.
The best way to test your packaging out is to show it to individuals with no previous interaction and ask for feedback. See how they respond to it in terms of the physical design as well as the content on the packaging. Text heavy content can be off-putting, studies have shown that when a consumer picks up a product on a shopping aisle.
The scariest mistake we see is brands rushing their packaging to get their product onto the shelves.
When you look at your packaging as the last and best chance to make a sale then it deserves the time and effort into getting it right. Taking the time to get to know your product and its packaging will enable you to produce the best possible experience for the customer.
Esmark Finch use digital technology to our clients advantage when it comes to avoiding these common mistakes. Digital packaging technology allows for testing to be done more efficiently, due to benefits such as no minimum order quantities. Some of our clients like to test out their new packaging at trade shows to get feedback on the new design before placing a large order when hitting the retails shelves.