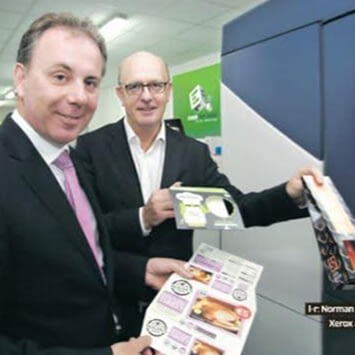 The success story of Esmark Finch in partnership with Xerox, was shared at the The Sunday Business Post on 26th of March.
John Mullane, Chief Executive Officer at Esmark Finch & Norman McNellis, Director of Production Systems at Xerox discussed how their partnership delivers agile On Demand Print and packaging!
"As an iGen 4 user, Esmark Finch is a great example of how we are doing very successful business with digitally printing On Demand, in order to meet the needs of major brands such as speed-to-market, product customization, and competitive pricing."
March 26-27, 2017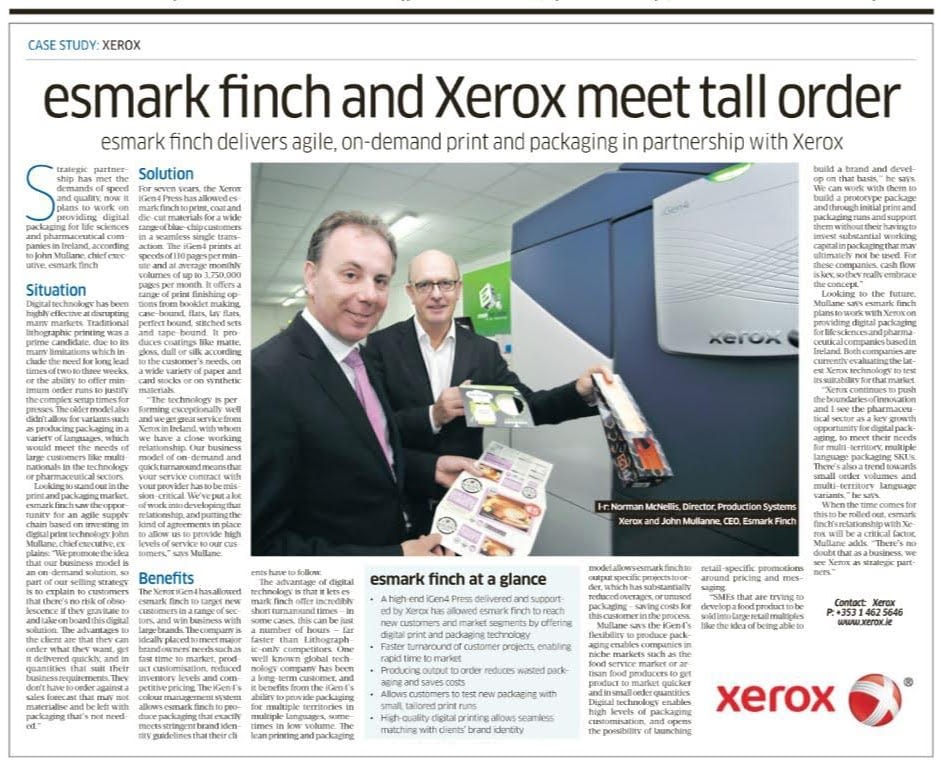 Case Study: Xerox
Esmark Finch delivers agile, on-demand print and packaging in partnership with Xerox.
Strategic partnership has met the demands of speed and Quality, now it plans to work on providing digital packaging for life sciences and pharmaceutical companies in Ireland, according to John Mullane, chief executive, Esmark Finch.
Situation
Digital Technology has been highly effective at disrupting many markets. Traditional lithographic printing was a prime Candidate, due to its limitations which include the need for long lead times of two to three weeks, or the ability to offer minimum order runs to justify the complex setup times for presses. The older model also didn't allow for variants such as producing packaging in a variant of languages which would meet the needs of large of customers like multinational in the technology or pharmaceutical sectors.
Looking stand out in the print and packaging market, Esmark Finch saw the opportunity for an agile supply chain based on investing in digital print technology. John Mullane, chief executive, explains: "We promote the idea that our business model is an on-demand solution, so part of our selling strategy is to explain to customers that there's no risk of obsolescence if they gravitate to and take on board this digital solution. The advantages to the client are that they can order what they want, get it delivered quickly, and in quantities that suit their business requirements. They don't have to order against a sales forecast that may not materialize and be left with packaging that's not needed."
Solution
For seven years, the Xerox iGen4 Press has allowed Esmark Finch to print, coat and die-cut materials for a wide range of blue-chip customers in a seamless single transaction. The iGen4 prints at speeds of 110 pages per minute and at average monthly volumes of up to 3.750.000 pages per month. It offers a range of print finishing operations from booklet making, case-bound, stitched sets and tape-bound. It produces coatings like matte, gloss, dull or silk according to the customer's needs, on a wide variety of paper and card stock on or synthetic  materials.
"The technology is performing exceptionally well and we get great service from Xerox in Ireland, with whom we have a close working relationship. Our business model of an on-demand and quick turnaround means that your service contract with your provider has to be mission-critical. We've put a lot of work into developing that relationship, and putting the kind of agreements in place to allow us to provide high levels of service to our customers", says Mullane.
Benefits
The Xerox iGen4 has allowed Esmark Finch to target new customers in a range of sectors, and win business with large brands. The company is ideally placed to meet major brand owners needs such as fast time to market, product customization, reduced inventory levels and competitive pricing. The iGen4's colour management system allows Esmark Finch to produce packaging that exactly meets stringent brand identity guidelines that their clients have to follow.
The advantage of digital technology is that it lets Esmark Finch offer incredibly short turnarounds times – in some cases, this can be just a number of hours – far faster than lithographic – only competitors. One well known global technology company has been a long-term customer, and its benefit from the iGen4's ability to provide packaging for multiple territories in multiple languages, sometimes in low volume. The lean printing and packaging model allows Esmark Finch to output specific projects to order, which has substantially reduced overages, or unused packaging – saving costs for this customer in the process.
Mullane says the iGen4's flexibility to produce packaging enables companies in niche markets such as the food service market or artisan food producers to get product to market quicker and in small order quantities. Digital technology enables high levels of packaging customization, and opens the possibility of launching retail-specific promotions around pricing and messaging.
"SMEs that are trying to develop a food product to be sold into large retail multiples like the idea of being able to build a brand and develop on that basis," he says. "We can work with them to build a prototype package and through initial print and packaging runs and support them without their having to invest substancial working capital in packaging that may ultimately not be used. For these companies, cash flow is key, so they really embrace the concept."
Looking to the future, Mullane says Esmark Finch plans to work with Xerox on providing digital packaging for life sciences and pharmaceutical companies based in Ireland. Both companies are currently the latest Xerox technology to test its suitability for that market.
"Xerox continues to push the boundaries of innovation and I see the pharmaceutical sector as a key growth opportunity for digital packaging, to meet their needs for multu-territory, multiple language packaging SKUs. There's also a trend towards small order volumes and multi-territory language variants," he says.
When the time comes for this to be rolled out, Esmark Finch's relationship with Xerox will be a critical factor, Mullane adds: "There's no doubt that as a business, we see Xerox as strategic partners."
Esmark Finch at a glance
– A high-end iGen4 Press delivered and supported by Xerox has allowed Esmark Finch to reach new customers and Market segments by offering digital print and packaging technology
– Faster turnaround of customer projects, enabling rapid time to market
– Producing output to order reduces wasted packaging and save costs
– Allows customers to test new packaging with small, tailored print runs
– High-quality digital printing allows seamless matching with clients' brand identity